The Life Transformations Fitness Personal Trainers in Lee's Summit put together a Top 10 Christmas Gifts for a Fitness Fanatic listing. Have you ever wondered what to get a fitness fanatic for Christmas…well here are some ideas.   Check it out!
Top 10 Christmas Gifts for a Fitness Fanatic
1. Gift Card to a sporting goods store or health food store
2. Whey Protein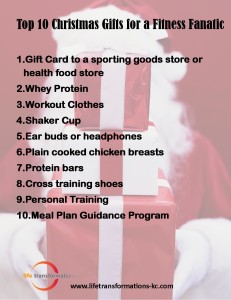 3. Workout Clothes
4. Shaker Cup
5. Ear buds or headphones
6. Plain cooked chicken breasts
7. Protein bars
8. Cross training shoes
9. Personal Training
10. Meal Plan Guidance Program
What to know more about Life Transformations Personal Training? We are located in Anytime Fitness Lee's Summit at 316 NE 291 Hwy.   Stop by to check it out or contact molly@lifetransformations-kc.com or r_wichman@hotmail.com.