Life Transformations Personal Trainers in Lee's Summit like to share healthy recipes for clients and the local community.  Here is a healthy recipe for Smashed Potato Casserole.  This is a quick and easy recipe that only has THREE ingredients.  Prep and bake time is only 30 minutes.  Try it out and see how easy it is.  If it's a hit…you an change it up.  Try a different potato (yellow, red, Russet) or a different cheese, or throw in some spices.
This casserole is mainly potatoes, which would be a healthy carb (potatoes are such a starchy vegetable, I place them in this category).  So, you need to add a little meat and green veggies.  This recipe would pair nicely with almost anything.  Basic baked or grilled chicken, lean turkey, salmon (or other fish) or even lean beef.  Now…onto the recipe!
Smashed Potato Casserole
INGREDIENTS: 
6-8 red or golden potatoes
Plain Greek Yogurt
Low Fat Cheddar Cheese
DIRECTIONS:
Preheat oven to 400. Cook potatoes in microwave or oven until they are soft. Place potatoes in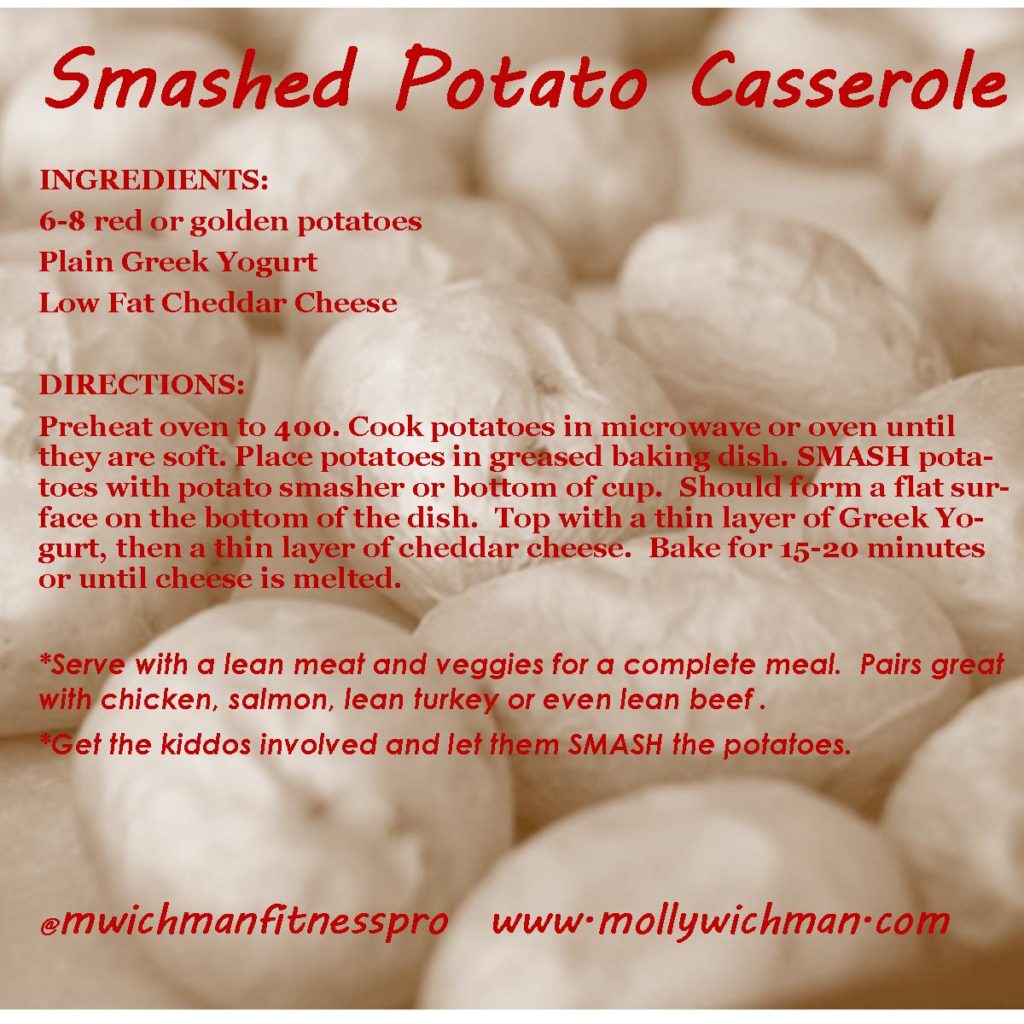 greased baking dish. SMASH potatoes with potato smasher or bottom of cup.  Should form a flat surface on the bottom of the dish.  Top with a thin layer of Greek Yogurt, then a thin layer of cheddar cheese.  Bake for 15-20 minutes or until cheese is melted.
*Serve with a lean meat and veggies for a complete meal.  Pairs great with chicken, salmon, lean turkey or even lean beef .
*Get the kiddos involved and let them SMASH the potatoes.
Recipe from Life Transformations Personal Training.  Adapted in the kitchen for clean eating meals.