Molly WIchman, Life Transformations Lee's Summit Personal Trainer, shares tips on "Reseting your Fitness" Great tips for getting back to the old fitness routine.
Did you fall off the band wagon with working out? Excuses pile up and before you know it, you'll be going to the gym "tomorrow". It happens to the best of us. The hardest part is getting back up on the horse.
It's never too late to get back to the gym. Getting from the couch to the gym and fitting in that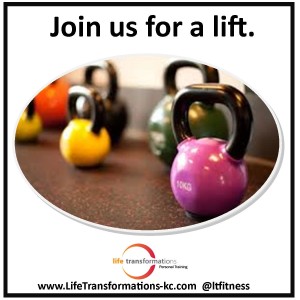 150 minutes of exercise per week will benefit your body and mind greatly. No matter when you start, getting active will benefit your health. Here are some tips for getting back into that healthy lifestyle.
1.Start Slowly
It's more than likely that you've heard the tale of the tortoise and the hare. The moral of that story was that slow and steady wins the race. When you're just getting back to the gym, take it slow. Work yourself back into your routine. If you push yourself too hard, you're likely to hurt yourself.
2. Make it a habit
Don't just go randomly and sparingly. Make a commitment to yourself that you will fit in those 150 minutes of exercise each week for at least a month. Once you make it a habit, it will feel awkward to not go to the gym.
3. Reconnect with your Trainer
Personal Trainers see people come in and out of fitness routines. When getting started, reach out to your trainer for some tips. They know you and your body. Schedule a few sessions to get you back in routine and keep you accountable.
4. Get a workout buddy
It's always easier to have someone there with you working out. They're there to challenge you and keep you motivated. When someone holds you accountable it's not only you that you're letting down.
5. Track your fitness
Tracking your fitness is important in monitoring your health and progress. This will help you to reach goals and continue to strive for greatness.
Need more tips, check out our NEWS blog