What to know more about Life Transformations Fitness? We are located in North Lee's Summit one block South of the Woods Chapel and Ralph Powell Road intersection.  Perfect for Lakewood, Lee's Summit, Independence, Kansas City and Blue Springs residents.  Stop by to check it out or contact molly@lifetransformations-kc.com or robert@lifetransformations-kc.com.
Did you know Life Transformations Fitness has convenient access?
Check out these drive times: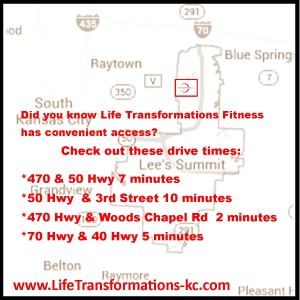 *470 & 50 Hwy 7 minutes
*50 Hwy  & 3rd Street 10 minutes
*470 Hwy & Woods Chapel Rd  2 minutes
*70 Hwy & 40 Hwy 5 minutes
Life Transformations Fitness is locally owned and operated.  Robert and Molly Wichman work together to share their passion for fitness and health with their members and staff.  If you want to join a fitness center focused on "fitness," then Life Transformations Fitness is for you.
Do you want an exclusive fitness facility with the amenities of a large facility? Life Transformations Fitness offers a premier facility and service environment that will help inspire you to achieve your fitness goals. We are open around the clock for you to workout on your own, with a certified and experienced trainer or follow a web-based training program catered to our facility. When yours workout is over, visit our Fit Bar for a fresh smoothie or Coffee, schedule a massage or relax in the sauna. We've seen the fitness industry roll into Lee's Summit and we've heard your response; now we have what you have been wanting. Without a doubt, Life Transformations Fitness can help Unlock the Inner You!
Warm and inviting is the feel and environment at Life Transformations Fitness.  From professional athletes to general weight loss clients…everyone can get a quality workout in a positive fitness environment.
Life Transformations Fitness opened in March 2013 and was spotlighted the the first BOOST Lee's Summit StartFest for local entrepreneurs to show case their businesses. Check out the video of this high energy event!
Staffed Hours: Monday-Friday 5:00am-8:00pm, Saturday 7:00am-1:00pm, Sunday 8:00am-12:00pm
*Members have 24/7 key fob access to the fitness center.  Guest welcome during staffed hours